If there's one thing that stays consistent as we get closer to ringing in the new year, it's our desire to make a change for the better as soon as we flip our calendars to January 1st. That includes updating our home interior! The design trends of the day offer individuals a wide variety of styles to choose from, ensuring that they will always be able to find the one that best speaks to them.
At Homes by Taber, we carefully curate our floor plan designs to ensure that they will be the perfect canvas for your interior design masterpiece to come to life, so read on to see which trend you'd like to use to dress up your Taber home in the new year.
Black & White
Starting off with a classic color combination, the black and white color scheme will never go out of style. With an incredibly clean look, striking contrast and ideal opportunities to add in bold pops of color whenever you wish, this trend is for the modern art lover, with an edge. Be sure to dress it up with elevated gold finishes to ensure that your home will be the ultimate picture of elegance and grace for everyone who comes to visit.
Gunmetal Green
Earth tones have been highly sought-after for the past few years, and as we enter into 2023, that concept has not changed. Adding in gunmetal green tones by way of your kitchen cabinetry or with your furniture items can help bring a calming, natural feeling to your home and add a bit of color in a subtle and stunning way.
Stone Gray
While gray paint tones may not be the first guess you make when thinking about the top interior design trends of 2023, a stone gray finish is a classic color selection, and it isn't going away anytime soon. The color gray is incredibly versatile, and allows today's homeowners to bring a certain sense of flexibility to each room in their home. By using gray throughout your home as a staple wall color and pairing it with stainless steel finishes, you can easily bring in different pieces of furniture and artwork whenever you please without worrying about anything clashing.
Farmhouse
The farmhouse trend has been around for some time, but each year it seems to get a bit of an upgrade nonetheless to keep it fresh! With a focus on updated and contemporary styling options such as using honey flooring, light stained wood, and matte black hardware, the farmhouse trend is anything but basic and works for a number of home interiors.
Cavalry Blue
If you're hoping for a bold and bright home design in one or more of your rooms this upcoming year, the cavalry blue trend is exactly what you could be looking for. Bring this modern color palette to life with a mosaic backsplash in your kitchen, or pair it perfectly with large statement pendant lights for extra drama in either your den, movie room or sitting room.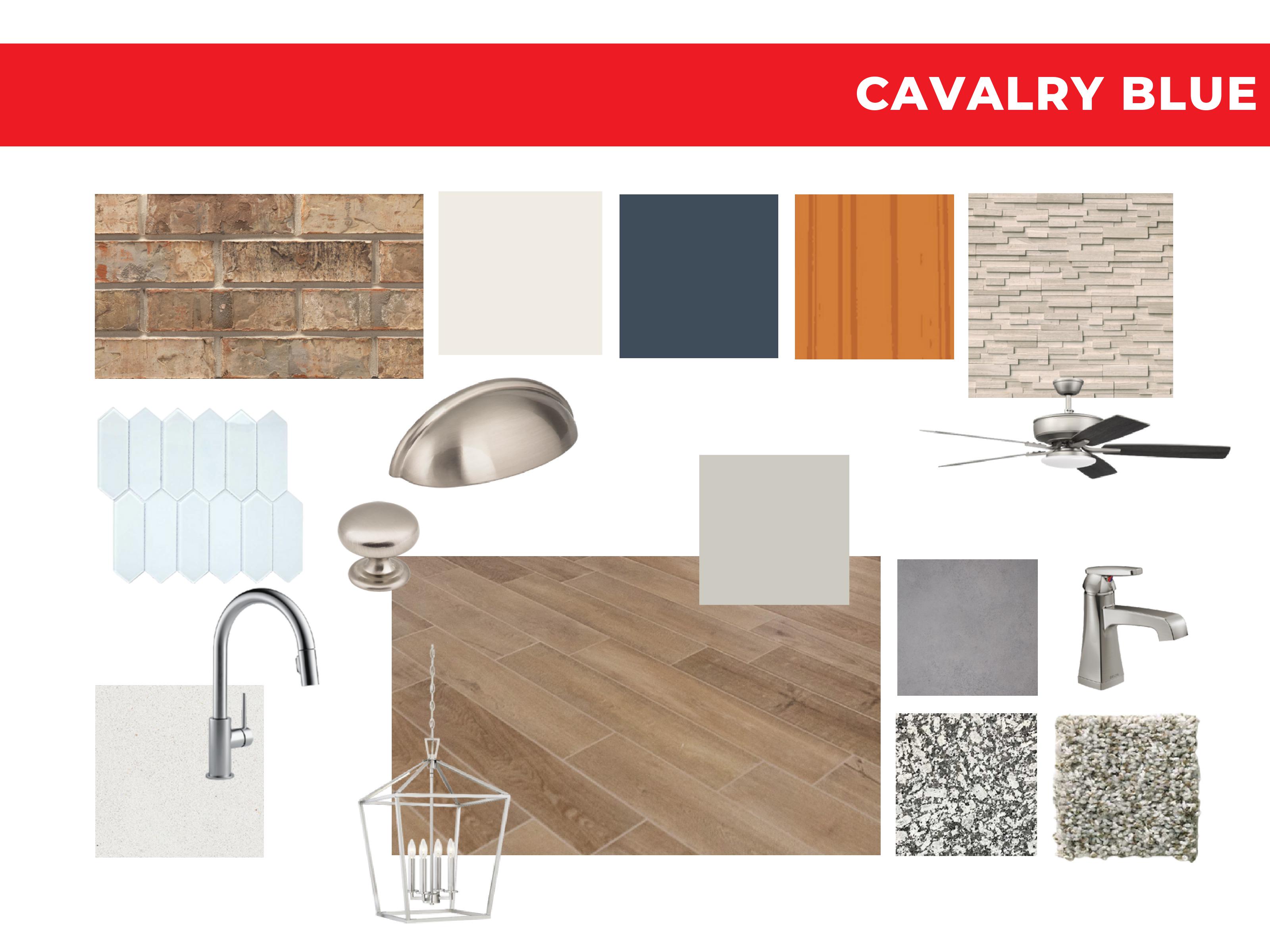 Navy
You can truly never go wrong when you add in the color navy to your home interior design plans. The color pairs well with a beautiful white hex backsplash in the kitchen and stainless steel finishes, but it can also bring in stunning dark tones to any room with a few accent decor pieces, statement wallpaper taking up a single wall or by adding in photographs or arts pieces to stand out on a crisp white wall.
Windsor Olive
Much like the gunmetal green trend, windsor olive is all about bringing in a natural, earthy tone to your space, but this trend in particular comes with a bit of a twist. While the gunmetal green tone brings a calming and subtle glow to any room you add it too, windsor olive can be paired with timeless gold fixtures in order to bring a sense of luxury and refinement to your home wherever it is used. The tone also blends well with light stained wood accents and a straight stack square backsplash for true versatility.
Juniper Teal
When it comes to the trends of the day, we've touched on many that are calming and neutral to ensure that they will go with everything else you may currently have in your Taber home. If you're looking for something with a little extra kick, however, the juniper teal trend holds just the thing for you. With either funky teal cabinetry or elongated subway backsplashes mixed with warm wood accents, your home will be absolutely eclectic.
Coastal
Last but not least, the coastal trend is in the air, and even with Homes by Taber being located in the heart of the Midwest, you will always be able to enjoy this particular home trend. Bring the beach life directly to your own home and let in a breath of fresh air with beautiful mint, stunning sky blues and crisp white accents within all of your decor choices to create a calming and cohesive coastal oasis throughout your space.
Your dream interior in your Taber home
At Homes by Taber, we carefully curate each floor plan and select each feature and finish within our homes to ensure that they are the perfect canvas for our homeowners to decorate exactly how they desire. With plenty of design trends to explore in the upcoming year, we're excited to see the end results.
If 2023 is the year you've decided to take the next step toward your new home construction journey, our team would be honored to work with you every step of the way to help create the home of your dreams. With a number of sought-after new home communities throughout the Greater Oklahoma City and Tulsa areas, we know you'll be able to find the perfect destination to set down your roots. Give us a call today at (405) 984-1185 in OKC and (918) 393-4149 in Tulsa or fill out our online form today.