One of the most exciting parts of building a new-construction home is helping our homeowners design a trendy-yet-timeless kitchen that showcases their personal style and creates a true heart of their home. Bailey Griffith, Lead Designer for Homes by Taber, highlighted some of the biggest trends in kitchens this year—and detailed some of what she expects buyers to select in the new year as well.
Adding accents to light and bright
For years now, an all- or mostly-white kitchen has been at the forefront of interior design trends. A white kitchen helps homeowners achieve a light and bright look while creating an ideal blank slate, so that their decor and accents can really shine against a monochromatic room. Many Taber homeowners decided to shake up this popular look by adding in more dark finishes during the design process. Matte black faucets and matte black pendant lights were often included in the white kitchens, offering a focal point that draws the eye in and creates a bit of contrast to really balance the overall look. Bailey predicts that buyers will take this contrast a step further in the near future, opting for white quartz countertops and dark cabinets for a more dramatic feel in the kitchen.
Different upper and lower cabinets
Another pop of color in kitchens this year came in the form of different upper and lower cabinets colors. Bailey said that most of Taber's buyers went with contrasting cabinets, typically with white upper cabinets and a dark or bold color on their lower cabinets and on the island. Black and navy blue were the popular choices, but homeowners were not afraid to choose a funky or bold color—with royal blue and forest green cabinets being incorporated into many new homes.
More time spent in the kitchen
As homeowners continued to work from home, either full- or part-time, they mentioned spending a lot more time in their kitchens than ever before. In addition to working or learning from home, they were also unable to travel as much as they might normally. We found this had a huge influence on the way people view their kitchen, likely making it feel more like the center of attention in their home. With the open-concept floor plans that Homes by Taber is known for, the kitchen is almost always in view throughout the living spaces in your home. Now more than ever, homeowners want the kitchen to be a space where they can spend quality time with their loved ones and maybe get some work and homework done from the oversized kitchen islands.
Practical features were popular upgrades
With more thought and time going into the kitchen, homeowners focused on functionality and practicality when it came to their upgrades. Although our Proudly Overbuilt promise gives Taber buyers over $80,000 worth of upgrades included in the cost of their home, many still want to spend a bit of extra money in their kitchens—both to help them enjoy their new home more and increase the resale value if they need to move in the future.
The two most popular practical enhancements were trash can pull-out drawers and soft-close cabinet drawers. Concealing trash cans in the base of your kitchen island not only looks more attractive, but makes food prep and cleanup a breeze. A soft-close option helps keep the items in your drawers more organized and offer peace of mind to parents whose children want to help out in the kitchen by offering a safer option for little fingers.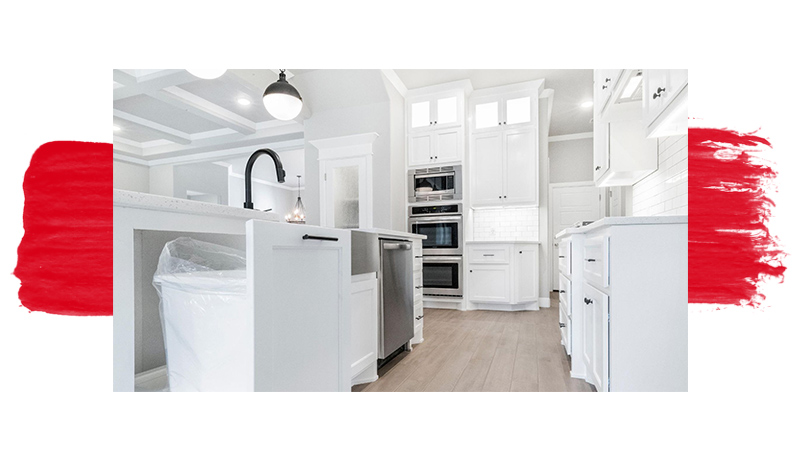 Bailey also noted that a large portion of buyers opted for the white quartz countertops this year, with lots of veining and detail that adds visual interest to their kitchen. While this may seem like an upgrade based on looks alone, choosing quartz over granite is actually another practical enhancement. Quartz is a harder material than granite, nearly indestructible—making it more durable and long lasting. Granite is also porous, while quartz is not, meaning it's more bacteria resistant and aids in creating a healthier home environment.
More daring backsplash
Our designers saw a shift from the use of standard, simple subway tile backsplash in favor of more dramatic choices. Hexagon shapes, faux brick tiles and special patterns all gained more traction this year. Bailey noted that a textured backsplash in a matte finish or fun shape really helps a kitchen feel cozy and lived-in instead of perfectly curated, creating the ideal amount of dimension.
Fresh selection options
The Homes by Taber team wants to offer the latest and greatest to our customers, which is why we are always working to reevaluate our available interior inventory. Selection options are reviewed throughout the year and options are maintained that will help us stay on top of the trends in Oklahoma and across the country. Despite the many hiccups caused by the supply chain interruptions, we were able to offer a variety new finish options —a feat that many other builders were not able to achieve.
Personal style is prioritized
While trends are the driving force behind many of the selections homeowners make during the kitchen design process, our designers strive to ensure that buyers' personal style and preferences are highlighted in their new home. The design team at Homes by Taber ask lots of questions about each customer and their interest in the initial stages of the design process, which allows them to understand them better and guide them toward selections that will fit their family's needs. Design appointments can reveal a lot about their personalities, hobbies and interests—including how much they love to bake, what parties and holidays they like to host and how they like to organize their kitchen. This information helps our designers incorporate each hoemonwer's personal style alongside the trends, which can drive the overall look and feel of their kitchen.
Looking forward
As another year of building the highest-quality homes and most sought-after neighborhoods in Oklahoma comes to a close, it's been fun to look back on all of the top trends and what our customers have found to be the top selections. It's also exciting to see what's to come —further expansion into our new Tulsa market, new neighborhoods in our Oklahoma City stomping ground, more money donated to our charity partners and more happy homeowners who are proud to own their very own Taber home.
Browse our inventory of quick move-in homes and get a head start on designing your new kitchen with our interactive design tools, available for each floor plan's page on the website. For questions or more information, contact our team online or give us a call at OKC (405) 984-1185 or Tulsa 918-393-4149.