The holidays are here. 2019 is winding down. In the midst of all the thankfulness and giving, why not do something really important? 'Tis the season to buy a new home!
Yes, you have plenty to think about right now, but your home is truly at the heart of it all. It's the place where you welcome family and friends to share the joy, where you surround yourself with festive decorations and cherished mementos. Your home is your haven to escape from the hectic pace of this season and simply unwind. Does your current home provide this much-needed support that a new home could provide? Do you have the comforts like a jetted tub, a fireplace inside and out, brand new appliances, smart home technology, energy efficiency, and storage? How about a roof that will protect you from the Oklahoma winter and a water heater that ensures you don't suffer the shivering shock of cold showers because it won't run out of hot water?
A new home—well…the right one—gives you the features you deserve. Homes By Taber wants to guide you to the perfect fit. We build single-family homes with more included features than other builders in the area, like a storm shelter, whole-home air filtration system, tankless water heater, TaberTech smart technology package, and a lot more. We invite you to look at what we include and think about how this long list will positively impact your lifestyle.
But there are more reasons to buy a new home right now, before the end of the year:
Interest rates are low. A year ago, economists predicted interest rates would be at approximately 5.5% right now. Luckily, they were wrong. In fact, mortgage rates went the other way. A 30-year, fixed-rate loan is currently available for 3.75% for qualified buyers in Oklahoma. That's a HUGE difference from 5.5%, saving you approximately $105,500 over the life of a 30 year loan on a $280,000 home! But if you think waiting will get you an even better mortgage rate to buy a home in Oklahoma City and the suburbs, don't hold your breath. The gamble could likely end up costing you when the current interest rates head in the opposite direction and move upward.
Housing prices will rise. While we don't know how future interest rates will move, we do know that the price to buy a new home will go up. The cost of labor and materials is increasing, so homes will follow suit. Even if you're thinking of buying a used home, don't expect a bargain. The cost to make any improvements will cost you more now than it ever did before. 
Less competition means more opportunity. In the crowded homebuying months of spring, summer, and fall, you face more competition. You might get into a bidding war for the home you want. In the winter, there are fewer buyers to battle for your dream home and you still have time to be in before the holidays. If all paperwork is finalized and documents turned in by December 13th, Homes by Taber and Great Plains Bank can get you in your new home by December 31, 2019.
It's a great time to sell! While the buyer pool is smaller, they are more serious. Winter homebuyers are often in the market for life-changing reasons, like job relocation or family members moving in. And if you simply don't want to deal with putting your home on the market, take advantage of Homes By Taber's "Trade Up" Program. 
Don't put off the decision to buy a new home. The benefits are in your favor! In addition to shopping for gifts for the people on your list, buy one for yourself. Choose one of our move-in ready homes for sale in Edmond, Moore, Norman, Yukon, Mustang, and PIedmont. You could be spending New Year's Eve in a brand new home! And when you use Homes By Taber's preferred lender, Great Plains Bank, you also receive a $2,000 credit toward closing costs.
Take a look at where you could be living by the end of December:
3109 Hunter Crest Drive, Timbercrest, Edmond: 2,640 square feet, 4 bedrooms, 3 baths, 3-car garage, $380,690

18700 Lazy Grove Drive, The Grove, Edmond: 2,250 square feet, 4 bedrooms, 3 baths, 3-car garage, $317,340
12708 Pinewood Lane, Ponderosa Estates, Piedmont: 2,450 square feet, 4 bedrooms, 3 baths, 3-car garage, $334,840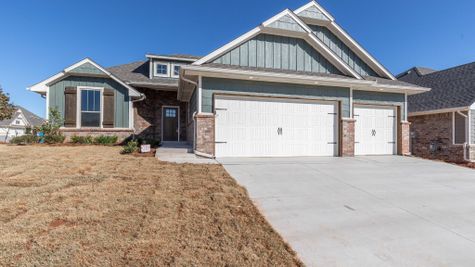 4309 Clevenger Drive, Delmer Lakes, Edmond: 1,800 square feet, 4 bedrooms, 2 baths, 3-car garage, $269,340
3228 NW 159th Street, IronStone, Edmond: 1,550 square feet, 3 bedrooms, 2 baths, 2-car garage, $230,540
Put "Buy a new home" at the top of your "To Do" list right now. And let Frankie Lewis help you make it happen!
About Homes By Taber
Homes By Taber, a local homebuilder in the Oklahoma City metro area, offers new, energy-efficient homes starting at 1,500 square feet of indoor living space and going up to 3,350 square feet of indoor living space. Prices for these new construction, single-family homes for sale start from the low $200,000 and go up to the mid $500,000 range. Homes By Taber was founded in 2000 by Taber LeBlanc. We currently build in 20 different locations with new construction homes for sale in the OKC metropolitan area, particularly Edmond, OK.