School is out, the sky is clear and you probably have lots of vacation days to burn after spending the past year-and-a-half at home. Luckily, the team at Homes by Taber has rounded up a list of activities and events that make it easy to spend time with friends and family this summer. Check out the suggestions our staff has made, along with some other popular attractions from around the state.
Make a splash
Oklahoma may not be near an ocean, but there's plenty of ways to spend time on the water this summer.
With more miles of shoreline than the Gulf and Atlantic Coasts combined, Oklahoma is home to more than 200 lakes for families to boat, swim, fish and participate in watersports on.
Lake Hefner in OKC is considered one of the best sailing lakes in the country, and bird watchers will appreciate the dozens of waterbird species that fly overhead. COO Travis Davidson also enjoys the walking trail that encompasses the lake because of the irreplaceable scenic view and the close proximity to the city. Lake Thunderbird in Norman is another nearby option for people wanting to experience time on the lake this summer, which Accounting Clerk Brittany Newby visits frequently with her husband. Lead Accounts Payable Coordinator Shelly Dill enjoys the water while cruising in the boat at Lake Eufaula with the whole family, including their dog.
Just north of Tulsa in Osage County is Skiatook Lake. Surrounded by picturesque forests, this lake is an ideal spot for campers, fishing enthusiasts, boaters and swimmers. For a weekend getaway that's further from the big cities, check out Grand Lake O' the Cherokees in Grove, Broken Bow Lake in Broken Bow or Lake Texoma on the border of Oklahoma and Texas. You can catch Executive Assistant Caitlyn Escalante camping and kayaking with friends around the state's rivers and lakes all summer long.
If lakes aren't your thing, the abundance of water parks and pools are sure to keep your family cool this summer. The greater Oklahoma City area is home to Six Flags Hurricane Harbor, Wild West Water Works and Pelican Bay Aquatic Center. Tulsa residents and visitors can stop by Safari Joe's H2O Water & Adventure Park and Charlie's Water Mountain.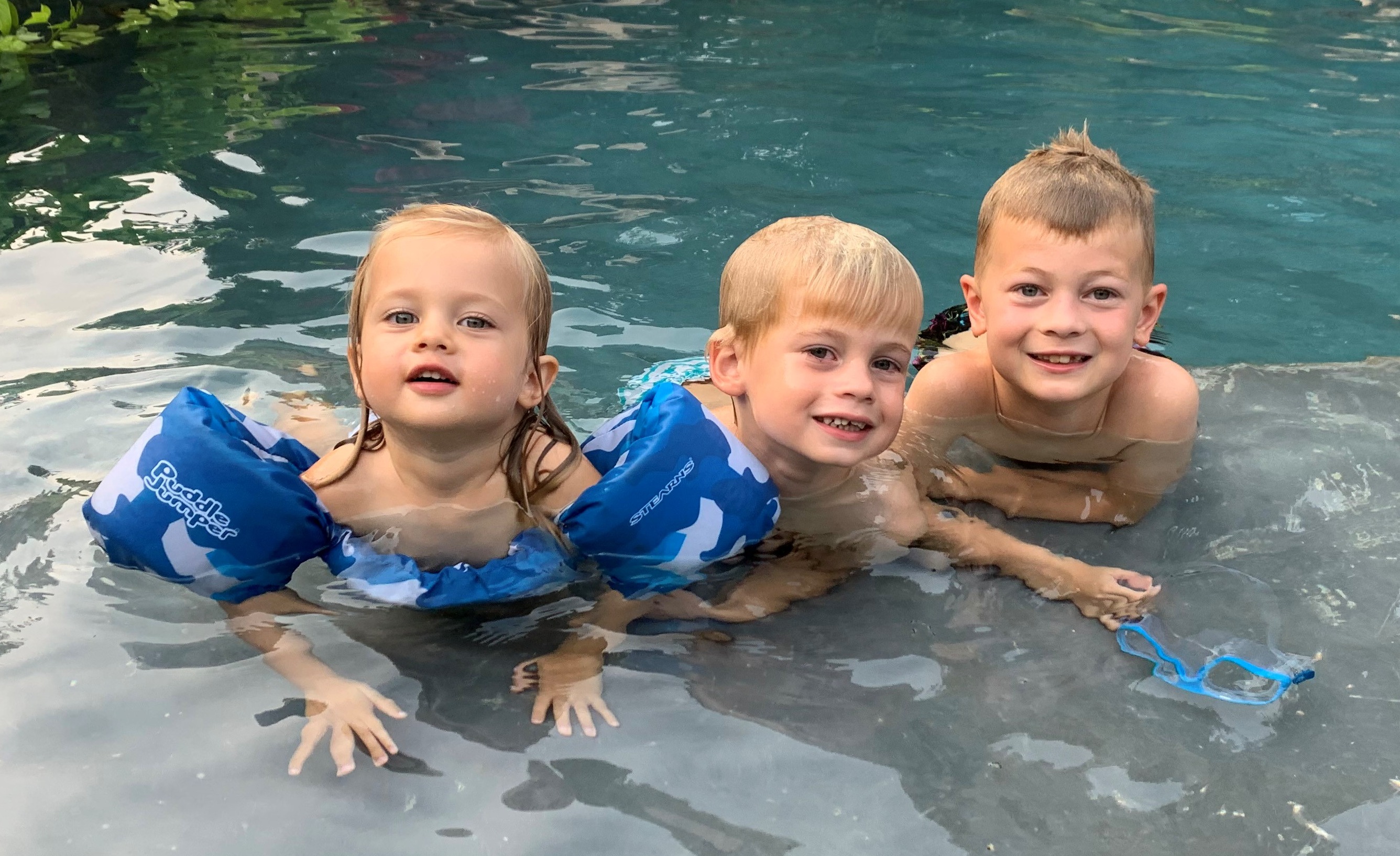 Some popular public pools in the area include Will Rogers Family Aquatic Center, Earlywine Family Aquatic Center and Park Plaza East Pool. Director of Sales Saadia Oberoi takes his family swimming at their community pool to stay cool close to home.
For the adrenaline junkies in the family, Riversport OKC is the place to be. Participate in whitewater rafting and kayaking, surf or ski on safe simulators, go tubing or take a spin on the zipline and adventure course.
Lastly, grab your preferred float vehicle—inflatable raft, kayak or canoe—and head to Tahlequah to float the Illinois River. A popular summer pastime for many, including Assistant Superintendent Aaron Schein and Customer Care Director Colton Streetman, the Illinois River offers a gentle, moderate current with plenty of banks to stop along.
Appreciate the outdoors
Aside from being in or on the water, there are other ways to get in touch with the outdoors this summer. Scissortail Park, located in the heart of Oklahoma City, is home to year-round attractions—but is a summertime favorite of Listing Coordinator Molly Holliday. Cool off at the Scissortail Sprayground, buy local goods at the OSU-OKC Farmers Market, take your furry friend to the dog park or picnic on the green space.
New H
omes Specialist Cayce Bryan recommends Route 66 Park in OKC, nestled alongside the shores of Lake Overholser. The 148-acre park features ponds with wetlands boardwalks, walking trails and bridges, the largest playground in the city and the Cyrus Avery Observation Tower. There's also a skate court, perfect for beginner and intermediate skates.
Although this comes as a surprise to many non-residents, the state of Oklahoma contains 10 distinct ecological regions, more per square mile than any other U.S. state. This diversity offers plenty of different ways to spend time outside, one of which being hikes. Digital Marketing Specialist Joel Filomeno enjoys hiking in the Turkey Mountain Urban Wilderness Area, just a few miles from downtown Tulsa. Other notable trails include Bison Trail in the Wichita Mountains National Wildlife Refuge, Inspiration Point Loop at Roman Nose State Park, Dripping Springs Trail in Natural Falls State Park and Friends Trail Loop in Beavers Bend State Park.
We can't create a list of things to do this summer without talking about the Gathering Place in Tulsa. Voted Best New Attraction of 2019 by USA Today, this 100-acre park features a lake, massive playgrounds, running trails, suspension bridges, botanical gardens and programming for the whole family to participate in.
Spending time outside doesn't necessarily have to mean you're out at parks, lakes or other attractions. Community Sales Managers Kathrun Daggs and Haley Reaves both enjoy hanging out on their patios, simply enjoying the company of friends and family. Director of Development Zach Holland loves cookouts during the summertime, as well as family walks around town.
Learn the fun way
School might be out for the summer, but that doesn't mean kids can't learn in entertaining, exciting ways. Science Museum Oklahoma in OKC features exhibits, shows and interactive activities for family members of all ages.
In Tulsa, the Discovery Lab is an educational resource with exhibits and programming to encourage the development of critical thinking, problem-solving, communication, collaboration, creativity and innovation. This will be your last summer to visit its original location before opening doors at the new location in the Gathering Place, so don't miss out!
For kids who want to learn more about animals, nature and a wide range of ecosystems, be sure to visit the Oklahoma City Zoo, Tulsa Zoo and the Oklahoma Aquarium in Jenks. Director of Marketing Lindsay Haltom enjoys spending time with her family at the OKC Zoo.
Find a festival or event
Big cities and small towns throughout Oklahoma host a variety of annual festivals and weekly events that people of all ages can enjoy.
LibertyFest in Edmond has repeatedly been selected as one of the top 10 places to be in America on the Fourth of July. With over 125,000 attendees annually, multiple days of events, parades, fireworks and food, you won't want to miss out on this national treasure of a celebration. Human Resources Generalist Ashli Swaim considers it a must-attend event for her family every year.
On select Saturdays through September, The Riverwind Casino in Norman presents the COOP Ale Works Beats & Bites Festival, bringing local food trucks, live music, face painting and local vendors together. Fans of arts and culture can check out art gallery walks and local creatives on the first Friday of every month in both the Paseo Arts District of OKC and the Tulsa Arts District. Various Native American tribes welcome visitors to celebrate with them at powwows, encampments and tribal dances. Learn more about the history and culture of Oklahoma tribes at the Wichita Tribal Dance, Comanche Nation Homecoming Powwow and the Otoe-Missouria Summer Encampment.
Music lovers will appreciate all of the different ways to listen to tunes this summer. Take your pick from the lineup of weekly outdoor concert series, including Sunday Twilight Concert Series at the Myriad Botanical Gardens in OKC, the Hudiburg Summer Music Series every Sunday at Riversport OKC and Concerts in the Park at Hafer Park in Edmond on Thursdays. You can often find Marketing Coordinator Maddy Willis at outdoor music events around the OKC metro.
Foodies can participate in various food-focused events around the state, like the Porter Peach Festival, Food Truck Wednesdays at Guthrie Green, Blackberry Festival in McLoud, Taste of Summer Ice Cream Festival in Broken Arrow and the Riverside Rib Festival in Tulsa.
A new home to spend summers in
Don't spend another summer living in a home or neighborhood you don't love. Homes by Taber is building thoughtfully designed communities throughout the OKC and Tulsa metro areas—and although we want you to get out and explore everything Oklahoma has to offer in the summertime, we're ready to build a home you'll never want to leave. Browse our photo and video gallery of completed projects, read about our expansion into new markets and call (405) 984-1185 or fill out an online form to schedule a tour of your next neighborhood today.