While homes are bought and sold every day of the year, the home-shopping season is spring — and the prime listing time is early May. Zillow economists have found that U.S. homes listed for sale on Zillow in the first half of May sold faster and for more money than the average listing throughout the year. Each market has a precise time when it's best to list, but the magic window is typically in spring.
Early May listings sell for higher
Nationwide, sellers who list their homes for sale between May 1 and May 15 get 0.7% more (or about $1,600 on the typical U.S. home) than the average listing during the year. For example, homes listed during early May in the Minneapolis-St. Paul area got the largest price boost during any half-month period: about 1.8% more ($4,900 on the median local home). For Seattle and Columbus, Ohio, the magic window opened a bit later — early June — and typically garnered a 1.5% premium ($7,500 and $2,900 respectively).
Homes listed in their area's magic window also sell faster
Hitting your area's listing sweet spot can also mean a quicker sale — nationally, it's roughly six days faster than usual. For example, Cleveland homes listed in early May (that metro's magic window) experienced the most time savings by selling 13 days faster than an average listing throughout the year. With new construction permits still at historic lows, competition for housing remains high, so list when the going is good.
Day of the week matters when listing a home
For many people, Saturday is a day of rest and relaxation, but for home sellers, it's a day to get busy listing their home online. Homes listed on Saturday get the largest number of views by Zillow users in the first week of listing — nationwide and in 12 of the largest 35 metros. Nationally, Tuesday is the worst day to list; homes listed on Saturday get 20% more page views than Tuesday listings in their first seven days on the market.
For those who don't want to wait, Friday is also a good day to list: In 10 of the top 35 markets, homes listed that day get the most views within a week of listing.
The window is nearly identical from metro to metro
Each metro has a best two-week window to list homes and they don't vary by much. In 29 of the 35 major metros analyzed, the two-week window when it was ideal to list fell between the second half of March and the first half of June. In only six markets — Charlotte, Dallas, Houston, Las Vegas, Miami and Tampa — did the window extend to the first two weeks of July.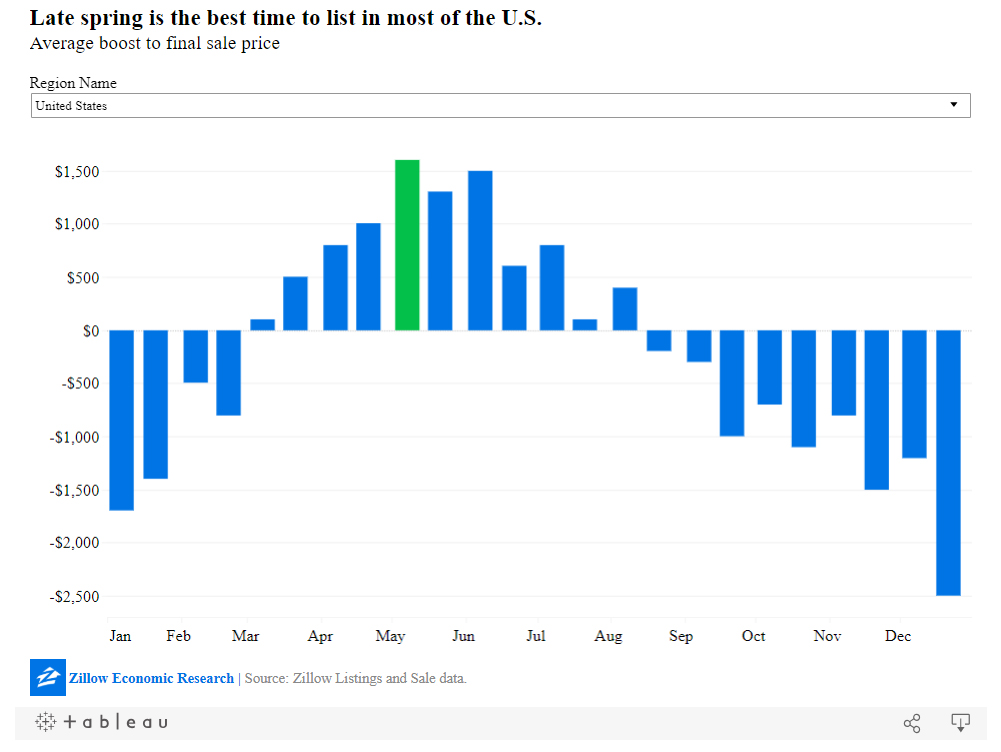 Original article can be found here.